With this first issue of Communitas, we begin our outreach to community leaders throughout North America who are interested, as our name implies, in heightening collaboration both within their own community and between communities located throughout North America.
This outreach is not with every community. Rather it is with "special" communities – those which are small, and which are located at some distance from a major urban area (usually at least one hour by car). We call them "island communities" – for they might not be surrounded by water, but they are surrounded by space that is not filled with homes, traffic or commerce. We consider these communities to be "special" because they each contain their own special "nuggets of gold" –be it a rich cultural or historical heritage or the richness of natural resources.
The Purple Communities
These are communities that may offer at least part of the answer to the seemingly polarization of North American politics and societies. In many ways, these small, isolated "island" communities are neither Red nor Blue. At times of challenge (fires, drought, floods, inclement weather), these are communities of Purple, in which everyone rolls up their sleeves and pitches in regardless of political perspective or social-economic level. In acknowledging the historical distinction of these island communities, we refer back to the observations made almost two hundred years ago by Alexis de Tocqueville, the Frenchman who visited North America to identify the secret ingredients of a thriving democracy. He discovered the democratic and collaborative "habits of the heart" not in the North American cities, but instead in the small, isolated towns and villages of the United States and Canada.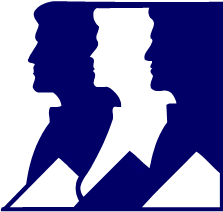 At this early stage in the life of Communities Collaborating, we are primarily in the business of forming a viable (and legally authorized) nonprofit organization. This work has progressed with considerable success. We are now incorporated as a nonprofit organization in the State of Maine. We will soon be applying for federal (US) status as a tax-exempt organization. Much of this work has been guided by the wisdom of Tom Leonhardt, our consultant on legal matters.
Tom has also served as our consultant and mentor in the formation of our Board of Directors. We have written and approved a set of by-laws, elected Board officers and built a small bank account (with generous donations from members of our Board). The website is now up and running (as you know in reading this newsletter). We have placed founding documents up on this website, along with information about our founding communities (Harpswell Maine and two neighboring Nevada County communities in California: Grass Valley and Nevada City). We will begin adding additional written material, video-recordings of interviews, links to other sites, and various tools that enhance collaborative ventures.
Getting Started
Our next set of steps involve beginning specific collaborative ventures among the founding communities. Our preliminary plans are to focus on one cultural/historical initiative and one human service initiative. We envision multiple projects in the near future, each one of which interplays with the other projects we are enacting: in a small, island communities everything is related to everything else. Their "community capital" is a vibrant mixture of engaged citizens, economic opportunities, human services, cultural enhancement, and preservation of the natural and social environment in which each community is situated. Our organization is truly committed to collaboration within and between communities.
In publishing these first issues of Communitas, we wish to acquaint our readers with members of the founding board. These are truly remarkable women and men (hopefully, we are allowed to pat ourselves on the back, since those contributing to this newsletter are themselves members of the board. We all are rolling up our sleeves). We also will be highlighted some of the "gold" to be found in our founding communities—this exemplifies the appreciative manner in which we will be operating over the coming years in seeking to facilitate and enhance collaboration. So . . . on to a portrait of one board member and one piece of community gold.
Keith Porter: A love of community and the arts
"Our community is hungry for quality music that's presented in a friendly, accessible, fun environment. We are committed to creating that experience, using our supporters' investments to do it efficiently, and in the process make a joyful contribution to our community's rich and growing artistic heritage."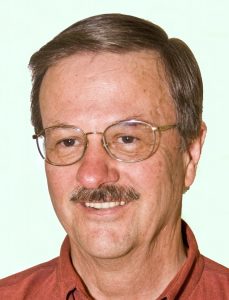 Keith is a retired executive with management experience in telecommunications, business development, operations, human resources and organization development. He received an electrical engineering degree from University of the Pacific, and a certificate in telecom management from University of Southern California.
Until 1990, Keith held various positions at AT&T and Pacific Bell. As President of PacTel Cable UK, Ltd., he established and operated cable television/telephone franchises in the United Kingdom. As Executive Director for AirTouch International (now Vodafone) he was start-up CEO and a member of the Board of Directors of Airtel, Spain's second wireless telecom carrier. Keith co-founded and operated WorkVantage, Inc., a workplace training and consulting business until 2007, and co-authored Me, Myself and I, Inc: 10 Steps to Career Independence, published
in 1998. Keith is a 2007 graduate of the Nevada County Community Leadership Institute.
In addition to serving as Past President of InConcert Sierra, Keith serves on the board of Sierra Stages, hosts The Sages Among Us and Classics Declassified on KVMR FM, sings Bass in the Sierra Master Chorale, is a Red Cross disaster-response volunteer, and served on the board of Center of the Arts. He enjoys taking an occasional role in community theater productions.
Keith and his wife, Shirley, live on an historic family orchard property near Grass Valley, California.
The Pig Roast:
Inviting Oneself into an Island Community
While island communities are sources of abundant gold, they are also sometimes hard for a "newcomer" to enter. The dynamics that encourage collaboration and open sharing of resources also can make it hard to gain entrance to the community.
On this website we will feature several ways in which to enter an island community—making use of written descriptions as well as video interviews. At this point, we want to give you a "taste" of the interesting strategies being used. In this instance, we are talking about a real "taste" (and a delicious one to boot).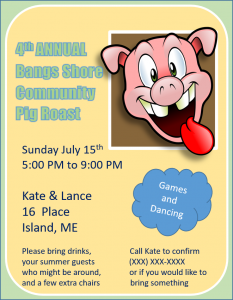 Kate Wolf and her husband, Lance, are recent residents in the founding community of Harspwell Maine. As a woman of action, Kate decided not to wait for other members of the Harpswell community to invite in she and her husband. Rather, she decided to host a pig roast—and she invited everyone in the community to join her and Lance: the Wolfs would provide the pig and others who were joining the feast would bring the other dishes. More than 100 people showed up for the first pig roast.
Now in its fifth year, the Harpswell pig roast is still hosted by Kate and Lance. It is one absolutely joyful and culinarily exquisite event. Roasted pig, 12 values of potato salad and 10 varieties of cole slaw – and of course fabulous Maine blueberries (featured in pies, cobblers and ice cream toppings). We wish you could join in . . . maybe next year.
Posted by Bill Bergquist
On June 10, 2019
0 Comment