Local Attractions
You will have time off from the NECS sessions and we are scheduling in time for "open space" when you will be able to take a walk with one or more colleagues or just sit by the sea and reflect on the conversations occuring at the Summit.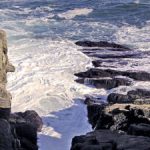 The ocean, of course, is a major attraction. You will be surrounded by water! Harpswell has more coast line per acre than any other community in North America. Harpswell actually is a series of connected islands: Great Island, Orrs Island, and Bailey Island–along with the Harpswell Neck (where the Brunswick Bed and Breakfast is located).
You might want to spend time at "Lands End" (traveling out to Orrs and Bailey Island) or at the Giant's Stairs (pictures here). Here is an even simpler idea: just step outside from the Brunswick Inn and walk to the nearby ocean and visit Allen's Lobster Shack.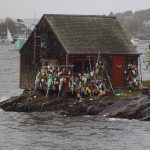 Speaking of Lobsters, you will be seeing lobster boats going out in the early morning and returing in the early evening. Lobstering is big business in Maine — and you will be living and working in the midst of Maine lobster country. Cooks Lobster House is one of the restaurants where you might want to dine. It is a very famous restaurant that you have seen many times in magazines. It is located near the Cribstone Bridge which is listed as one of the world's most memorable bridges. You also might wish to visit Historic Bath (once the shipbuilding capital of America). The main street of Bath is lovely — as is the main street of Brunswick.
This leaves us with one other major attraction: Bowdoin College. As the third oldest collegiate institution in the United States (after Harvard and Yale), Bowdoin is home to a wonderful art museum and the Artic Museum (Robert Peary being a Bowdoin graduate). Bowdoin was home to a famous Civil War hero (Joshua Chamberlin), several US presidents and a host of famous writers (including Longfellow and Hawthorne).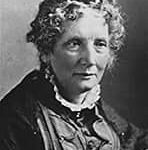 Bowdoin also was home to Harriet Beecher Stowe who wrote Uncle Tom's Cabin (the most widely read book of the 19th Century other than the Bible). Abraham Lincoln (a very tall man) is said to have put his arm around Harriet and declared that she was the "little lady that started the Civil War." While "Uncle Tom" is often now used as a term of derision, the portrayal of African-Americans as real people with emotions and caring relationships with one another was a real revelation for many White Americans and played a major role in advancing the Abolistionist movement in the United States. Another of her best-selling books is called "The Pearl of Orrs Island" (where you might wish to visit during your stay in Maine).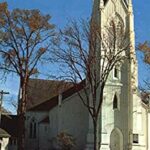 The gray ("First Parish") church that is located across the street from the Brunswick Inn (you pass on the way to Harpswell) is where Harriet had her vision to write Uncle Tom's Cabin. The interior of this church is unique (wood beams) and quite beautiful. In keeping with the vision and passion of Harriet, this church has a long history of social activism and inclusivity.
Harpswell Bed and Breakfast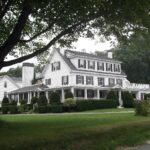 Our meetings will convene at the Harpswell Bed and Breakfast, however there are only 10 total rooms available at this location. If you would like to stay at this Inn then call (207) 833-5509 to make reservations, as their website won't take reservations this far in advance. Reservations at this Inn will be on a first-come, first-served basis, so call right away after registering for NECS.  We will be convening at the Brunswick Hotel for dinner the first night and to coordinate rides to Harpswell.
Brunswick Hotels
Fortunately, there are many excellent hotels and inns available for you in nearby Brunswick (10 minutes away), historic Bath (15 minutes), Freeport (home of LL Bean and first outlet stores in America) (30 minutes) and Portland (1 hour away). In Brunswick there is the Brunswick Hotel and Brunswick Inn). The standard  Comfort Inn  and Best Western Inn are also available in Brunswick. Marriot-based hotels are to be found in both Brunswick (Fairfield) and Bath. A Hilton member hotel (Garden Inn) can be booked in Freeport and many hotels are to be found in Portland.
Transportation
There are many transportation options, ranging from driving to Maine to taking an East Coast train to Boston and transferring to Portland (and even to Brunswick). Airplane flights can be booked to Boston (with bus, train or rental car to Portland and Brunswick) or to the Portland Airport. We will assist with coordination of transportation from Portland to Brunswick, as well as with transportation from the non-Brunswick hotels to Brunswick and with transportation of all attendees to the Harpswell Inn.
Posted by Bill Bergquist
On November 18, 2021
0 Comment