Communities Collaborating is committed to identifying, appreciating and helping to enrich the cultural and historical hubs in all of its participating communities. It is at the Hub where the Gold is found and where habits of the heart are nourished.
We provide a brief description of the Hub to be found in our founding communities.
Grass Valley and Nevada City, California
The northern portion of the Sierra Nevada Foothills was home for many centuries to an indigenous people known as the Nisenan. Warm summers and cool winters, a little snow and lots of sunshine produced plentiful food and supported an idyllic lifestyle. The year 1849 brought gold-seekers and many changes. Two towns emerged from the gold rush as prosperous commercial centers, 4 miles apart, with many shared assets and a little healthy competition. Today, these towns have become one community (Western Nevada County), sharing a rich history, proximity to the Bear and Yuba rivers, a community college campus, and a single identity as one of California's first state-recognized cultural districts.
Nevada County Arts Council
Nevada County Arts Council supports and promotes the community's vibrant arts and culture scene. The group scored a major win in California's 2018 inaugural competition to designate "Cultural Districts," gaining that prized recognition for Western Nevada County (Grass Valley and Nevada City) and also for the community of Truckee, high in the Sierra Nevadas on the Eastern side of famous Donner Pass.
The Nevada Theater
The Nevada Theatre is the oldest original-use theatre building in California. Operated by the non-profit Nevada Theatre Commission, it is the venue for live theatrical plays by most of the area's production companies, including LeGacy Productions, Sierra Stages, Community Asian Theatre of the Sierra, Paul Emery Presents and others. The Theatre also hosts numerous musical events, a film series, film festivals, magic and variety shows and community events.
InConcert Sierra
InConcert Sierra is all about great music and community – "Not just concerts, but Musical Experiences!"We know that our community loves world-class music that's presented in a friendly, accessible environment.
Since 1946, InConcert Sierra, has been committed to bringing you memorable musical experiences – at a price that you can afford. We also believe in supporting our community with education and outreach to help bring the joy of music into as many lives as possible.
The  mission statement of InConcert Sierra says it all:
InConcert Sierra presents exceptional classical and choral performances that inspire and enhance our cultural life. We offer a warm, inclusive community for enjoying music and we provide educational opportunities for youth and adults.
This Cultural Hub serves not just Grass Valley and Nevada City, but also several neighboring communities (and beyond): Auburn, Yuba City, Marysville, Roseville, Rocklin, Sacramento. These communities are being served through InConcert Sierra's annual Third Sunday Season series of six classical concerts, Sierra Master Chorale and Orchestra concerts, intimate house concerts, and  educational outreach events.
To quote the InConcert Sierra literature, this organization strives to fulfill its mission in the following manner:
• Providers of artistic excellence in an inviting atmosphere. How often does an audience get to meet a performer? At InConcert Sierra, we take every opportunity to create unique experiences where you can meet and visit with top-tier artists.
• Responsible stewards of donor investments and efficient management. We are honored by the support of our community, and carefully manage all donations as investments in musical excellence and education.
• Educators within the arts community. Our belief is that, to have stimulating music tomorrow, we must nurture young talent today. To do this, we offer youth and adult educational outreach concerts, free tickets to youth 5-17 at our Third-Sunday Season chamber programs, and youth scholarships. We also seek opportunities to help local emerging high-quality musicians find their voice and their audience.
• Believers in offering our audiences select high quality emerging musical expressions You can always find something new to hear at InConcert Sierra. We highlight innovative approaches to outstanding music as often as we can.
The Center for the Arts
The Northern California Center for the Arts in downtown Grass Valley provides a premier venue for numerous cultural events and a dance studio. Major music and comedy acts perform regularly and draw audiences from the surrounding region. The main facility has been a refurbished auto dealership and garage, which during 2019 is being totally remodeled into a 492-seat auditorium with state of the art sound and audience comfort systems. During remodeling, the Center is producing California World Fest, a major music festival July 11-14, and producing a number of smaller shows in other local venues: "Center On the Go!"
Music In The Mountains
Music In The Mountains has presented classical music in a festival format for over 30 years. Summer Fest 2019 starts on June 15 and culminates in the hugely popular outdoor concert, "Patriotic Pops – Happy Birthday America on July 3. MIM also has numerous smaller events and supports music education in schools and special events.
Diverse Cultural Events
There are several annual major cultural events which include Victorian Christmas (street faire), Summer Nights (street faire), Mardi Gras, Fourth of July Parade, Teddy Bear Convention, and Psychic Faire.
The Constitution Day Parade is held the second Sunday of September since 1967. It is one of the oldest and largest Constitution observances in the western United States. The event features youth, business and nonprofit entries, the Ophir Prison Marching Kazoo Band and, since 1987, the Famous Marching Presidents (and their First Ladies).
Wild & Scenic Film Festival — Beginning in 2003, the festival has showcased films on a full range of environmental issues and films emphasizing outdoor adventure and extreme sports. The event takes place in January and occupies multiple venues in downtown Nevada City. It has become one of the largest film festivals of its kind in the United States.
Nevada City Film Festival — Started in 2001, the festival has grown from a showcase for local filmmakers to an international film festival hosting notable filmmakers from around the country including director Mike Mills (Thumbsucker, The Beginners), director Jonathan Krisel (Portlandia), actress and comedian Natasha Leggero (Last Comic Standing), and Tim Heidecker and Eric Wareheim of Tim & Eric's Awesome Show, Great Job! The annual festival is held over the course of four-days in August. The Nevada City Film Festival has been called "The Sundance of the Foothills".
Nevada City Storytelling Festival — Located at the North Columbia Schoolhouse Cultural Center in nearby North Columbia the festival has attracted major national and regional storytellers since 1985. The event takes place each July in a pine-shaded amphitheater built specifically for storytelling.
Summer Nights – An outdoor street festival of art and music held several Wednesday evenings in July. During Summer Nights, Nevada City's landmark historic district is closed to motorized traffic and filled with arts, crafts, classic cars, food, drink and music.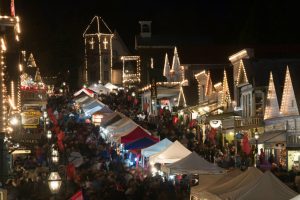 Victorian Christmas – This annual family tradition takes place 2 Wednesday evenings and 3 Sunday afternoons in December, and features holiday activities for all ages: carriage rides, arts & crafts, live entertainment, and savory yuletide treats and libations. Similar to Summer Nights in July, the streets of downtown Nevada City are closed to motorized traffic for Victorian Christmas.
Harpswell, Maine
The Harpswell Historical Society was created in 1979 by citizens who were concerned about preserving the Old Harpswell Meeting House and its contents. The group, headed by Harpswell resident and first president, Thurlow Alexander, met in the spring of '79 and by fall had a group of 16 charter members dedicated to the preservation of Harpswell's heritage.
Harpswell Meeting House
In the following years the Society oversaw repairs and stabilization of the Old Harpswell Meeting House [a Registered National Historic Landmark], was instrumental in relocating the Hearse House, [which still houses one of two horse drawn hearses which were available to Harpswell residents] at Harpswell Center, and assisted in the discovery and reconstruction of the 1759 vintage Harpswell Center Cattle Pound.
Centennial Hall
In 1993 the Society received the deed to one of Harpswell's few public community buildings, Centennial Hall. This building was constructed in 1876 by town residents, to celebrate the centennial this countries independence from England. The building served the public as a meeting place for suppers, plays, dances and recitals well into the 1940's and 50's.
For many years it was the home of the Harpswell Garden Club and many of their functions were held there. Centennial Hall gradually fell into disuse and ill repair but when Mr. and Mrs. Edwin Thompson, made the building available the Historical Society in partnership with the Harpswell Garden Club, arranged to have the building cut into three pieces and moved to Harpswell Center and onto land owned by the Garden Club and designated as the Ann Francis Hodgkins Memorial Park.
This then created the Harpswell Historic Park In the following years the Historic Park Committee, made up of members of both the Historical Society and the Garden Club, has overseen the reconstruction of the building and landscaping of the grounds. This effort is continuing and is about 85% complete.
One Room Schoolhouse
As a second addition to the newly created Historic Park, the North Harpswell District # 2 one room schoolhouse was given to the Historical Society by the Wilson Family as an example of one of the nineteen school buildings which once existed in Harpswell. Restoration of this building continues with the school scheduled to be moved onto a foundation soon and reproduction desks to be installed soon.
Historical Preservation
In the past few years the Society has taken responsibility for the care and upkeep of two of Harpswell's twenty cemeteries. The Thomas Cemetery and the Wilson Cemetery both on Harpswell Neck. A joint project with the Society and Harpswell Boy Scout troop 634 at Bailey Island is underway to restore the Doughty Cemetery on Great Island which is now abandoned and in a sad state of disrepair.
In 1998 the Committee for the conservation of old records began one of the original objectives of the Society. Filing cabinets and flat file drawers were purchased, Acid free files, envelopes were ordered and members attended several workshops at the Maine State Archives in preparation of cataloging and indexing old town records and the growing collection of Society memorabilia and documents.